Recipe - Dessert
Poached peaches, white wine and orange blossom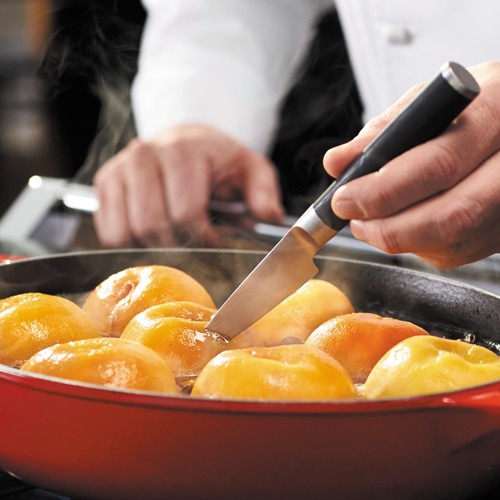 Here's an easy and delicious dessert to make the most of peaches being in season!
Ingredients
Serves 4

75cl sweet white wine
40cl water
350g cane sugar
2 tablespoons orange blossom water
8 ripe white peaches
Instructions
Add the white wine, water and cane sugar to the casserole. Place over a medium heat, stirring occasionally until the sugar dissolves. Then add the orange blossom water.
Rinse the peaches in clean water and then immerse them in the mixture.

Bring to the boil and then lower the heat. Leave to simmer for around fifteen minutes. The fruit should become soft. If necessary, turn them gently during cooking using a spoon.

Remove the peaches from the syrup. Reduce the syrup until thickened. Coat the peaches with the syrup and serve with whipped cream or vanilla ice cream.

Chef's tip: to serve your peaches, you can gently remove their skin. It will have rubbed off on the flesh of the fruit, which will give your dessert a very impressive look!
Chasseur products used in this recipe