Recipe - Dessert
Crème brulée with ginger and turmeric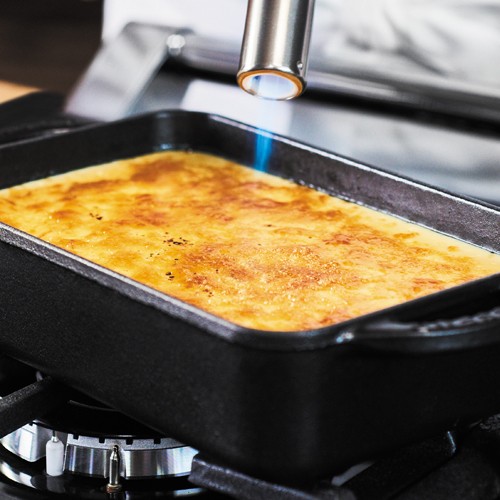 You won't be able to resist this incredibly creamy and delicious crème brulée flavoured with ginger and turmeric.
Ingredients
Serves 6

6 egg yolks
1cm ginger root
100g cane sugar
25cl whole or semi-skimmed milk
25cl double cream
½ teaspoon ground turmeric
brown sugar
Instructions
Preheat the oven to 100°.

Finely grate the ginger. Heat the milk, cream, turmeric and ginger in a saucepan, stirring constantly. Once it begins to boil, remove from the heat, cover and leave to infuse for around ten minutes.
In a large bowl, vigorously whisk the egg yolks with the cane sugar until the mixture lightens.

Strain the milk mixture and add it to the bowl. Mix well. Pour everything into the dish. Bake for 1 hour. Leave to cool and then chill for 2 hours.

Sprinkle the crème brulée with brown sugar. Caramelise using a torch or under a very hot grill (over 260°), placing the crème brulée on the top shelf. Serve immediately.

Chef's tip: to make this dessert even more indulgent, use 100% cream: simply replace the milk with cream in the recipe.
Chasseur products used in this recipe