Recipe - Dish
Chicken tabaka with coriander and lemon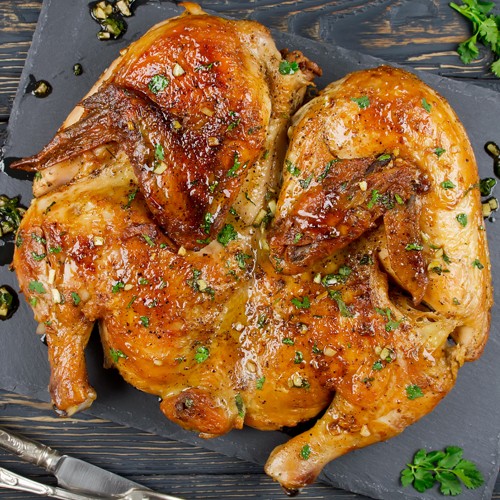 Chicken tabaka is a traditional Georgian dish. The chicken is spatchcocked and its shape is said to resemble a tobacco leaf!
Ingredients
Serves 2

1 small bunch of fresh coriander
4 garlic cloves
5cl olive oil
1 tablespoon honey
15cl white wine
1 untreated lemon
1 teaspoon pink peppercorns
sea salt
1 chicken (approximately 1kg)
Instructions
Prepare the marinade: pick the coriander leaves and finely chop. Peel and chop the garlic.

Pour the olive oil, white wine and honey into a bowl. Add the juice and zest of the lemon. Mix in the sea salt, crush the pink peppercorns (between the fingers or using a pestle and mortar) and then add to the bowl. Then mix in the coriander and chopped garlic. Mix well.
Place the chicken breast side down. Slice along the middle of the chicken, from the neck to the parson's nose. Turn it over. Press down on the rib cage with the palm of your hand. Press down hard to flatten it. Use a knife to make a dozen small cuts on the skin. Place the prepared chicken in the double grill pan.

Brush both sides of the chicken liberally with the marinade. Position the lid. Chill for an hour.

Then remove the chicken from the pan. Quickly clean the pan and dry it. Heat it, and then place the meat back into it. Close the lid. Roast over a medium heat for about ten minutes until brown. Then turn the chicken to cook the other side. Serve the meat with the chopped coriander.

AChef's tip: to keep the chicken flat, you can thread one or two skewers through its width.
Chasseur products used in this recipe