Recipe - Dish
Grilled lamb cutlets with rosemary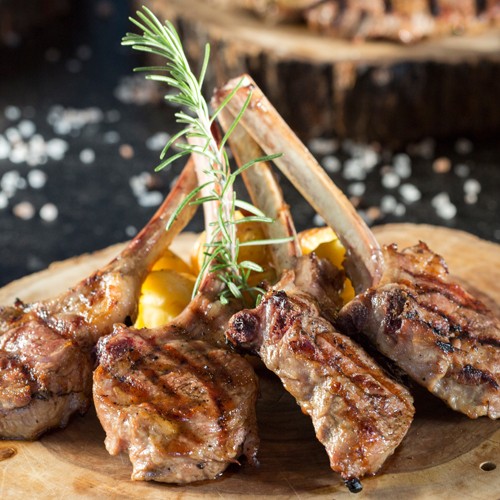 This recipe for rosemary lamb cutlets is perfect for family and friends.
Ingredients
Serves 4

3 rosemary sprigs
2 racks of lamb
6 ribs
2 garlic cloves
2cl olive oil
sea salt and mixed peppercorns
Instructions
Preheat the oven to 220°.

Slice lamb into cutlets.
Peel the garlic cloves and chop.
Cut the rosemary sprigs into 6 pieces. Prick a piece into each cutlet, in the fat of the meat.
Heat the oil in the dish, then, over a high heat, brown the lamb cutlets on both sides. Then add the chopped garlic, salt and ground mixed peppercorns.

Bake for 15 minutes and then finish cooking under the grill for around two minutes.

Remove the cutlets and wrap them in a baking paper sheet. Leave them to rest for around ten minutes before serving.

Chef's tip: serve these delicious lamb cutlets with sautéed potatoes.
Chasseur products used in this recipe