Recipe - Dish
Fish soup with saffron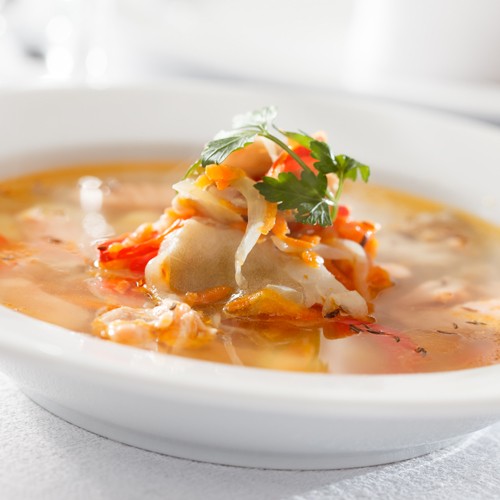 This soup is a complete meal which can be easily adapted depending on which vegetables are in season, and also depending on the seafood available.
Ingredients
Serves 4

1 pinch of saffron threads
1 fennel bulb
2 carrots
1 onion
2 garlic cloves
1 knob of butter
1 tablespoon olive oil
2 tablespoons tomato purée
20cl white wine
70cl water
1 bay leaf
6 white fish fillets (such as cod or sea bream)
300g seafood (mussels, clams, prawns, etc.)
3 tablespoons double cream
¼ bunch of parsley
salt and pepper
Instructions
Warm the equivalent of half a glass of water. Infuse the saffron threads for at least fifteen minutes.

Meanwhile, prepare the vegetables: wash the fennel and the carrots. Remove the hard parts of the fennel (base, stems) and chop into thin strips, ideally using a mandolin. Coarsely grate the carrots or julienne them. Peel the onion and the garlic and then slice them.

Heat the butter with the olive oil. Brown the vegetables for 3 to 4 minutes, stirring constantly.

Then add the filtered saffron water, tomato purée, white wine, water and the bay leaf. Season with salt and pepper. Cover and leave to simmer for around twenty minutes.

Cut the fish into cubes and then add them to the soup. Then stir in the seafood. Continue to cook for 6 to 8 minutes.
Garnish the soup with crème fraîche and chopped parsley. Adjust the seasoning if necessary. Serve.

Chef's tip: make this soup even more indulgent by serving it with croutons.
Chasseur products used in this recipe