Recipe - Dish
Seared scallops with a soy, honey & orange sauce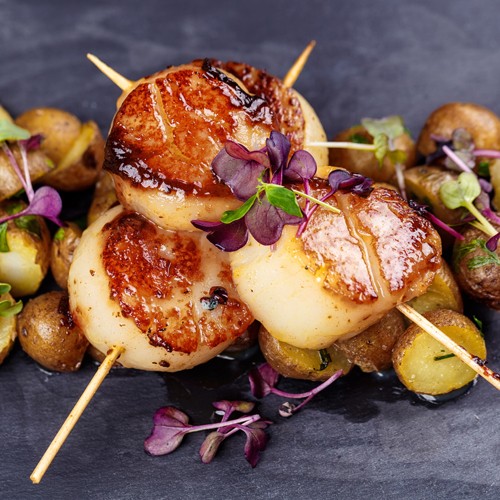 This is an original and simple recipe for scallops with a delicious sweet and sour sauce. We recommend serving this dish with young salad greens.
Ingredients
Serves 4:

To serve:
200g young salad greens (mesclun)
1 tablespoon balsamic vinegar
2 tablespoons grapeseed oil (alternatively you can use sunflower)
salt and pepper

For the scallops:
1 garlic clove
1 untreated orange
5 tablespoons soy sauce
3 tablespoons honey
2 tablespoons olive oil
12 scallops
4 sprigs of chives
Instructions
Wash the salad greens and drain. Place in a salad bowl and keep cool. Add the vinegar and oil to a bowl. Add salt and pepper, followed by the salad greens. Set aside in the fridge.
Peel and finely chop the garlic. Zest the orange and squeeze the juice out. In a bowl, mix the soy sauce with the orange juice and zest and the honey. Set aside.

In a saucepan, heat a dash of olive oil. Sauté the chopped garlic until golden. Then add the contents of the bowl. Leave to simmer and reduce to a syrupy sauce. Cover and set aside.

Pat the scallops with a paper towel.
In a frypan, heat a dash of olive oil. Add the scallops, seasoning them with salt and pepper. Brown them by frying for one to two minutes on each side.

Serve the scallops with the soy and orange sauce and garnish with chopped chives, with the seasoned salad greens on the side.

Chef's tip: you can use frozen scallops for this recipe. To do so, leave them to thaw for at least 4 hours in the fridge beforehand to ensure that the texture is not impaired.
Chasseur products used in this recipe