Recipe - Dish
Moussaka with brousse and rosemary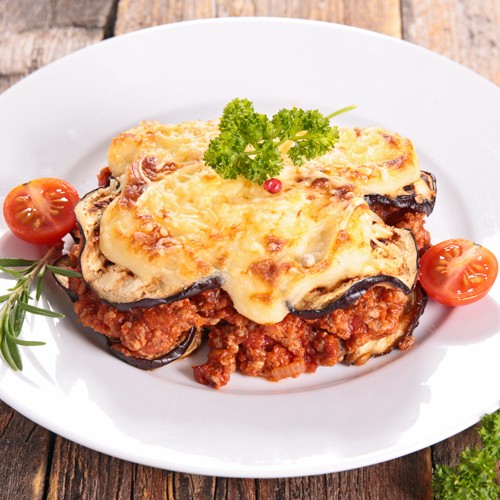 Moussaka is a hearty, colourful summer dish, best enjoyed with our loved ones!
Ingredients
Serves 4:

4 aubergines
1 to 2 sprigs of rosemary
1 onion
2 garlic cloves
500g lamb or beef mince
½ teaspoon ground cinnamon
800g chopped tomatoes
50g tomato purée
60g grated emmental
500g ewe's brousse [a type of soft white cheese]
2 eggs 1 tablespoon cornflour
½ teaspoon ground nutmeg
olive oil
salt and mixed peppercorns
Instructions
Preheat the oven to 180°.

Wash and dry the aubergines. Cut them into slices, retaining the skin.
Coat the slices with olive oil on both sides using a brush. Arrange on a baking tray, season with salt and bake for 20 minutes. Turn them over halfway through.
Pick the rosemary leaves and finely chop the equivalent of a tablespoon.

Peel and slice the onion and the garlic cloves. In a frying pan, heat a drizzle of olive oil. Sauté the onion and the garlic for a few minutes and then add the minced meat, chopped rosemary and the cinnamon. Brown the meat, stirring constantly.

Stir in the chopped tomatoes and tomato purée. Season with some salt and pepper. Cook for another ten minutes.

Arrange a layer of aubergine slices in a greased baking dish. Cover the aubergine layer with the meat and tomato mixture, followed by grated emmental. Add another layer of aubergine followed by another layer of meat. Finish with a final layer of aubergine slices.
Whisk the ewe's brousse with the eggs and cornflour. Season with a small amount of salt and add the nutmeg. Cover the dish with this creamy mixture.

Bake for 30 minutes. Serve with a side salad.

Chef's tip: you can replace the grated emmental in this recipe with sliced mozzarella.
Chasseur products used in this recipe