Recipe - Dish
Spring risotto with asparagus and spring onions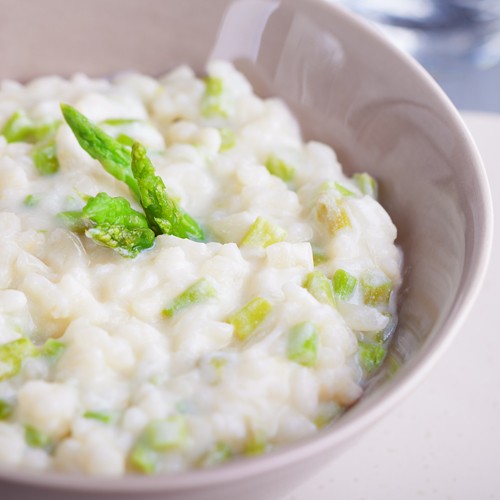 Here is a risotto recipe to help you make the most of the (all too short) asparagus season!
Ingredients
Serves 4:

250g green asparagus
80cl vegetable stock
60g butter
1 spring onion, with its stalk
1 garlic clove
320g risotto rice (Arborio, Carnaroli, Vialone nano...)
25Cl white wine
100g mature parmesan, freshly grated
salt and mixed peppercorns
Instructions
Cut off the ends of the asparagus, wash and wipe with a clean cloth. In a casserole, cook the asparagus in plenty of boiling salted water for about ten minutes.

Once cooked, immerse the asparagus in very cold water. Take them out and cut the tips. Chop the rest of the asparagus into small pieces.

Put the vegetable stock in a saucepan and place over a low heat. Cover and keep warm.

Wash the spring onion, removing the top layer and the root. Slice, including the stem. Peel and chop the garlic clove. Add the butter to a casserole and place over a medium heat. Add the onion, asparagus pieces and the chopped garlic. Sauté for one to two minutes, stirring with a wooden spoon.
Pour in the rice and then sauté until translucent. Add the white wine and let it evaporate.

Add the hot vegetable stock, one ladleful at a time, stirring constantly. Make sure that the stock is completely absorbed before adding another ladleful. Halfway through cooking, add half the grated parmesan.
Once cooked, the rice should have a creamy consistency and should be firm in the middle. Add the remaining parmesan and the asparagus tips. Serve.

Adjust the seasoning if necessary by adding more salt and pepper.

Chef's tip: risotto is a dish that needs to be served immediately! It should be made at the very last minute to ensure it is creamy and not boiled! So make sure you've planned your timings well...
Chasseur products used in this recipe