Recipe - Dish
Foie gras terrine with mulled wine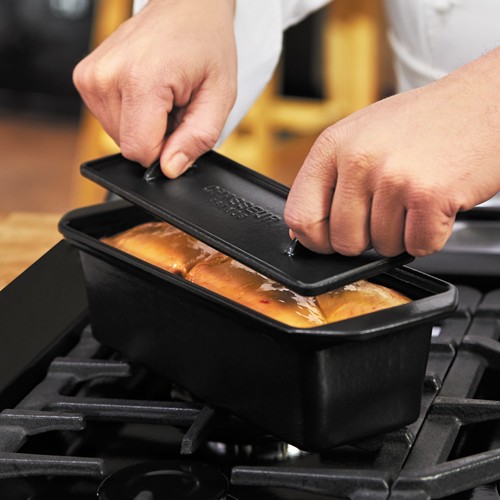 This incredibly soft and flavoursome foie gras poached in spiced mulled wine and served in a terrine is perfect for the festive season.
Ingredients
Serves 4:

1kg deveined duck foie gras
1 litre red wine
30g brown sugar
1 cinnamon stick
1 star anise
2 cardamom pods
mixed peppercorns
10g coarse salt
Instructions
Remove the foie gras from the fridge to bring it to room temperature.

Season with some salt and pepper. To do so, gently massage all sides of the foie gras using your hands. Wrap in baking paper pierced with holes.

Pour the red wine into the serving casserole. Add the brown sugar, cinnamon stick and star anise. Crush the cardamom pods and add. Bring to the boil, stirring regularly using a wooden spoon.

Turn off the heat and immerse the foie gras in the liquid. Add hot water if necessary to ensure that the foie gras is completely immersed. Cover and leave to stand for around one hour.

Once the hour is up, remove the foie gras from the serving casserole, remove the baking paper from it and place it in the terrine, adding 2 to 3 tablespoons of the warm spiced wine. Put the press on top of it.
Leave to cool down to room temperature and then refrigerate for at least 48 hours before enjoying.


Chef's tip: for the eager ones among you, this terrine can be enjoyed after 48 hours of refrigeration. However, given that the flavours develop over time, the best time to enjoy this foie gras would be after 5 days. Come on, stay strong!
Chasseur products used in this recipe