Recipe - Dish
Baby potato casserole with vegetables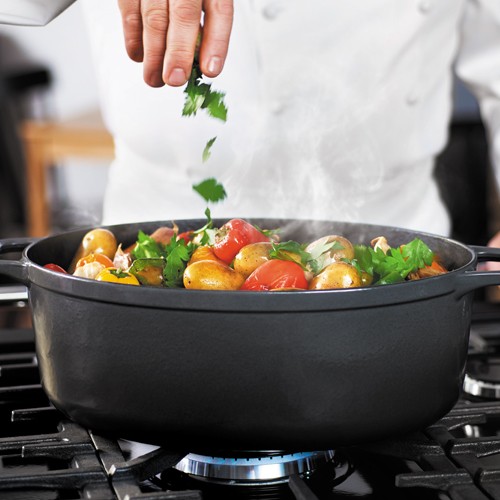 Baby potatoes, with their soft and melt-in-your-mouth texture, are cooked in a casserole with mini peppers. It's spring on a plate... or rather, spring in a casserole!
Ingredients
Serves 4:

800g baby potatoes
6 garlic cloves
4 tablespoons olive oil
10 to 12 mini peppers
1 teaspoon coarse salt
1 pinch cayenne pepper
4 sprigs of thyme
½ bunch of parsley
Instructions
Wash the baby potatoes, mini peppers and garlic cloves. Wipe them with a clean cloth.

Heat the olive oil in the casserole. Add the vegetables, including the garlic. Add salt, cayenne pepper and the thyme sprigs. Sauté over a high heat for two to three minutes, stirring constantly with a wooden spoon.

Lower the heat, cover, and leave to cook for one hour. Stir regularly.

Before serving, remove the thyme sprigs.

Chef's tip: this spring vegetable dish can be enjoyed alongside a delicious roast chicken.
Chasseur products used in this recipe