Recipe - Starter
Trio of cream soups: Rocket and green apple cream soup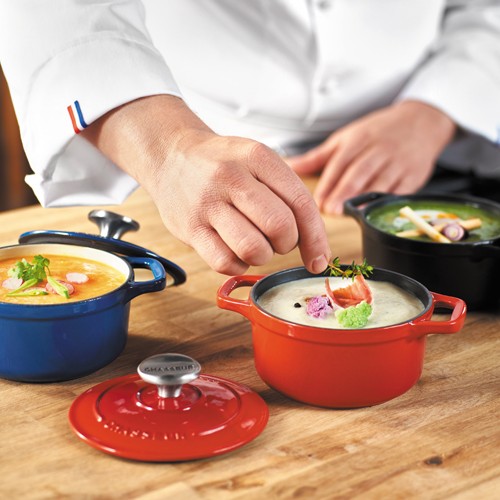 Fill up on vegetables while enjoying this trio of cream soups: on the menu - sweet potato and coconut milk, cauliflower and horseradish, and rocket with green apple.
Ingredients
For 4 mini casseroles:

200g rocket
1 onion
1 large potato
1 Granny Smith apple
olive oil
salt, mixed peppercorns
Instructions
Wash the rocket and drain. Set aside.
Peel and chop the onion. Peel the potato and cut into cubes. Do the same with the Granny Smith apple.
Heat a dash of olive oil. Sauté the onion until translucent. Stir in the potato cubes. Pour in 70cl water. Season with some salt and pepper.

Cover and continue cooking over a low heat for around twenty minutes. Then stir in the apple cubes. Continue to cook for 5 minutes. Finally, add the rocket and continue to cook for around 5 minutes. Blend until smooth.
Add water or milk to achieve the desired consistency.

Serving the cream soups:
Heat the cream soups several moments before serving, and then serve in the mini casseroles, garnished with parsley, cauliflower florets, thin onion slices...

Chef's tip: these cream soups can be made several hours in advance. When reheating over a low heat, you may need to add some liquid, depending on the desired consistency. You can use stock, water or milk.
Chasseur products used in this recipe