Recipe - Starter
Thai beef salad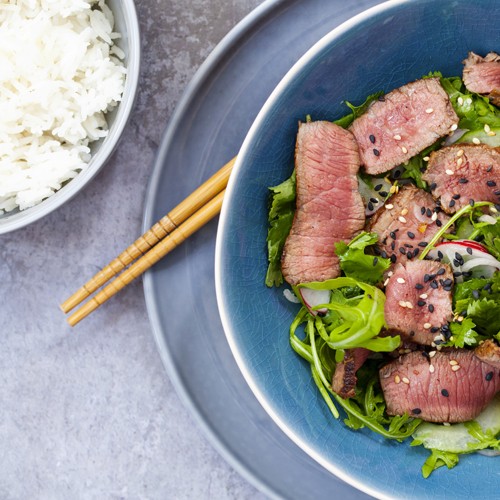 Ingredients
Serves 4:

2 sirloin steaks (450g-500g)
3 tablespoons grapeseed or sunflower oil
½ lime
2 tablespoons soy sauce
2 tablespoons fish sauce
2 teaspoons cane sugar
1 garlic clove
1 small cucumber
1 bunch of fresh coriander
1 red pepper
1 tablespoon sesame seeds
10 radishes
1 handful of rocket
salt and pepper
Instructions
Brush the steaks with oil. Season with some salt and pepper. In a frypan, brown the meat for around 3 minutes on each side, then let it rest on a board.

Meanwhile, add the lime zest and juice to a bowl. Add the soy sauce, fish sauce, cane sugar and garlic clove (peeled and crushed). Set aside.

Cut the cucumber into thin slices. Pick off the coriander leaves. Cut the red chilli into thin rings. Wash and wipe pink radishes and rocket leaves quickly with a clean cloth. Cut the radishes into quarters.

Arrange all the prepared vegetables and coriander leaves on each plate.

Cut the beef into strips. Divide it among the plates. Season with reserved sauce. Sprinkle with sesame seeds. Serve.

Chef's Tip: If you have time, you can marinate your beef in half of the soy sauce and fish sauce for at least an hour before brushing with oil and frying. It will be even tastier!
Chasseur products used in this recipe