Recipe - Starter
Broccoli, salmon and comté fruité quiche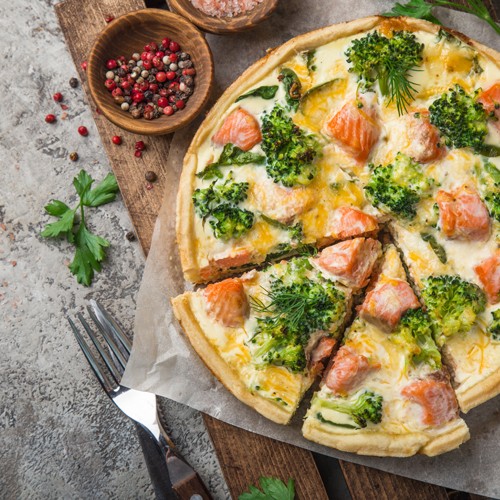 Ingredients
Serves 6:

For the shortcrust pastry:
200g white spelt flour
90g butter, diced
1 egg approximately
20g water
salt

For the filling:
1 head of broccoli
400g skinless salmon fillet
30cl soya cream for cooking
4 eggs
100g freshly grated comté fruité (fruity Comté cheese)
a few sprigs of fresh parsley, chopped
salt and mixed peppercorns
Instructions
Make the shortcrust pastry: put the spelt flour into a large bowl. Add two big pinches of salt and the diced butter. Mix using your fingertips until you get a sandy consistency.
Add the egg and then gradually add a little water until you get a soft and smooth ball of dough.
Cover the bowl with clingfilm and then chill for a minimum of 30 minutes, or up to an hour.

Then remove the pastry from the fridge, place on a floured surface of greaseproof paper and roll out to a thickness of 3 to 5mm. Grease the round dish with butter or oil and then line it with the pastry dough. Prick with a fork in several places and then chill while you prepare the filling.
Wash the broccoli and then cut into florets. Dice the broccoli stems. Cut the salmon fillets into chunks. Cook the broccoli and salmon in the steamer casserole for around ten minutes.

Preheat the oven to 170°.

Break the eggs into a large bowl. Add the soya cream and grated cheese. Add salt and pepper and stir in the chopped parsley leaves. Mix well using a whisk.

Remove the round dish from the fridge. Pour in the filling. Add the salmon and broccoli pieces.
Bake for approximately 40 minutes. Cut into slices and serve with a salad.


Chef's tip: eliminate waste! Feel free to add any leftover cooked vegetables to the quiche filling.
Chasseur products used in this recipe