Recipe - Starter
Vegetable minestrone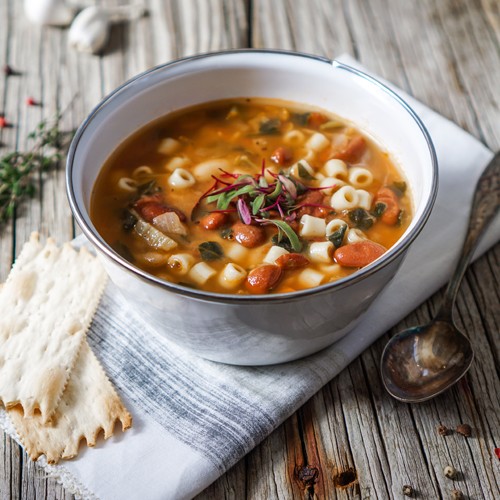 Ingredients
Serves 4:

1 onion
2 garlic cloves
3 medium carrots
100g smoked lardons
800g peeled tomatoes
2L water
4 thyme sprigs
2 rosemary sprigs
1 teaspoon ground paprika
150g pasta (this recipe uses hoops)
400g cooked kidney beans, drained
salt and mixed peppercorns
olive oil
to serve: slices of unleavened bread
Instructions
Peel the onion and the garlic cloves. Chop. Wash and scrub the carrots and then dice.
Add a dash of olive oil to the casserole and place over a medium heat. Fry the smoked lardons, onion, garlic and carrots for around 5 minutes, stirring occasionally with a wooden spoon.

Mix in the peeled tomatoes, water, thyme and rosemary sprigs and the paprika. Cover and simmer for around fifteen minutes, stirring occasionally.

Then add the pasta and the kidney beans. Season with some salt and pepper. Continue to cook for another ten minutes. Add water if needed.
Serve with slices of unleavened bread, if desired.


Chef's tip: for a balanced meal, enjoy your minestrone soup with a lovely green salad!
Chasseur products used in this recipe