Recipe - Starter
Green salad with steamed broccoli, avocado and boiled egg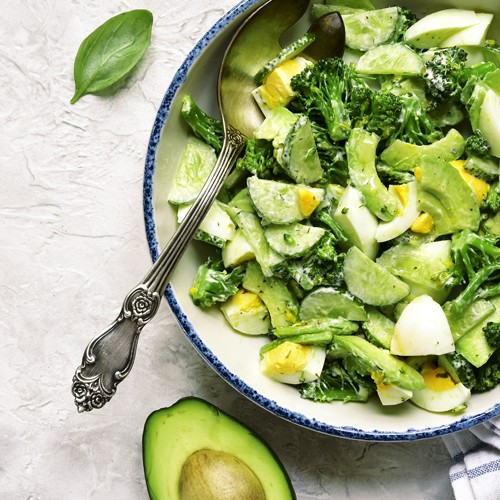 Ingredients
Serves 4

2 heads of broccoli
several ice cubes
2 hass avocados
1 lime
2 handfuls of spinach
4 hard-boiled eggs
¼ bunch of fresh parsley
1 garlic clove
1 tablespoon mustard
2 tablespoons cider vinegar
3 tablespoons olive oil
salt and pepper
Instructions
Wash the broccoli in cold water and then quickly dry using a clean cloth.
Chop into florets. Peel the stalks. Cut into small pieces.
Cook in the steamer casserole for 5 minutes. Drain the vegetables and then plunge them into cold water with ice to stop them cooking.

Wash the cucumber thoroughly. Cut in half along the length, then use a knife to cut into strips on a chopping board.

Halve each avocado. Remove the stones. Peel each half and then cut into strips or chunks. Squeeze out the juice from the lime.
Cut the boiled eggs into quarters. Chop the parsley leaves. Peel and finely chop the garlic.

Place all of the ingredients in a large salad bowl, wash and drain the spinach leaves and add those too.

Make the dressing: mix the mustard and vinegar in a bowl. Then stir in the olive oil, salt and pepper.
Pour the dressing into the salad bowl, toss carefully and serve.