Recipe - Dessert
Strawberry, mascarpone and redcurrant jelly tart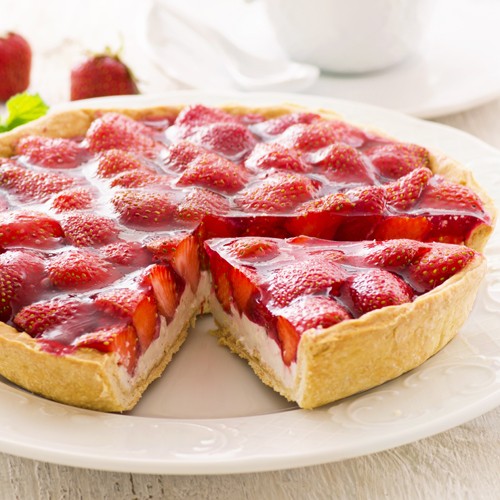 Ingredients
Serves 6 to 8:
For the shortcrust pastry (to be prepared the day before):
220g plain flour
40g ground almonds
60g cane sugar
125g butter
1 pinch of sea salt
1 egg
For the filling:
250g mascarpone
1 vanilla pod
200g white chocolate
around 500g strawberries
100g redcurrant jelly
Instructions
Prepare the shortcrust pastry the day before: add the flour, ground almonds, sugar, butter (cut into cubes) and sea salt to the bowl of a mixer. Mix until it takes on a sandy texture.

Then add the egg. Mix again until it forms a ball of dough. Wrap it in clingfilm and place in the fridge for 6 hours.

The following day, preheat the oven to 210°.

Grease the round dish. Use a rolling pin to roll out the dough to a thickness of 2 to 3mm. Place it in the dish and prick with a fork.

Bake for 10 minutes. Lower the temperature to 180° and continue to bake for another ten minutes. Remove the dish from the oven and leave to cool.

Wash and hull the strawberries. Melt the white chocolate over a bain-marie and then mix in the mascarpone. Add the pulp from the vanilla pod.

Spread the mixture over the bottom the pastry shell and then refrigerate for around fifteen minutes. Then garnish with the strawberries.

Gently heat the redcurrant jelly and then use a brush to coat the strawberries with it.

Chef's tip: if you live in France, opt for French strawberries! "La Charlotte" strawberries, with their heart shape and bright red hue, would be perfect for this dessert.