Recipe - Dessert
Pure indulgence chocolate cake with meringue pieces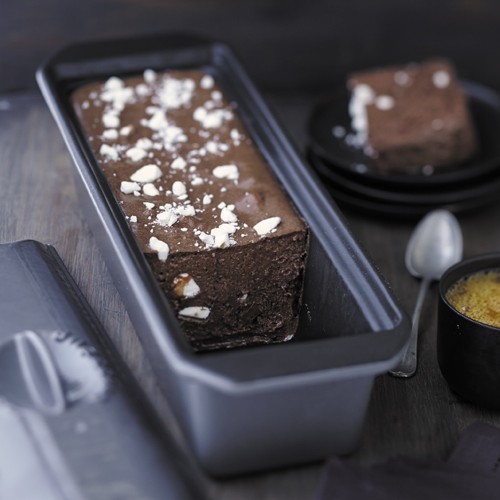 A traditional dish for sharing with friends
Ingredients
Serves 6

For the cake:
200g dark cooking chocolate
100g butter
100g cane sugar
3 eggs
250g plain flour
3 teaspoons baking powder
a pinch of sea salt
5cl double cream
2 tablespoons dark rum

For the decoration:
2 tablespoons water
1 tablespoon cane sugar
Around 30g meringue


Instructions
Preheat the oven to 150°. Melt diced butter with the chocolate in a bowl over a pan of hot water.

Meanwhile, vigorously whisk the eggs with the sugar. The mixture should double in volume.
Add the plain flour, baking powder and sea salt to a large bowl. Make a well.
Add the contents of the bowl. Mix. Then mix in the melted chocolate, double cream and the dark rum.
Grease the terrine with butter. Pour in the mixture.

Bake for 45 minutes. Leave to cool for a few minutes before removing from the terrine.
For the decoration: in a small saucepan, heat the water and the cane sugar, stirring continuously with a wooden spoon. Once it starts to boil, remove from the heat and brush the warm syrup onto the cake.
Crush the meringue and use it decorate the top of the cake. Cut into slices, serve and enjoy.


Chef's tip: for an even more gourmet dessert and a beautiful balance of flavours, it can be served with a red fruit coulis (raspberries, strawberries... ).
Chasseur products used in this recipe