Recipe - Dessert
Pears with caramel and spices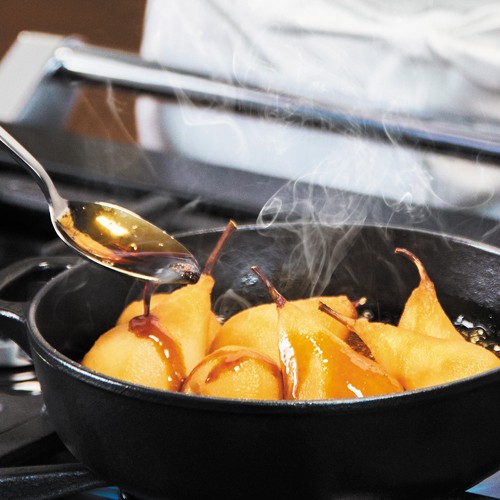 Whole pears are poached in a cinnamon and orange syrup, which reduces to make a deliciously smooth caramel...
Ingredients
Makes 6 to 7 portions

For the syrup:
1 vanilla pod
65cl water
200g cane sugar
5cl dark rum or pear liqueur
zest of 1 untreated orange
1 teaspoon ground cinnamon

For the fruit :
6 to 7 firm pears
lemon juice

For the caramel:
50 g butter
1 large pinch of sea salt
Instructions
Split the vanilla pod and scrape out the seeds. Add the pod and seeds to the serving casserole. Pour the water, add the cane sugar, alcohol, orange zest and cinnamon. Bring it to the boil

Meanwhile, peel the pears, retaining the cores and stalks. Squeeze lemon juice over them.

Add the pears to the syrup you have made. Leave them to simmer gently for around fifteen minutes. Regularly baste the pears with the syrup using a spoon. Once cooked, remove the pears and place them in a dish.

Remove the vanilla pod. Bring the syrup to a rolling boil and reduce it to achieve a brown caramel. Then mix in the diced butter and sea salt.

Serve the pears immediately, topped with the caramel.

Chef's tip: to achieve an even smoother and tastier caramel, you can add a drop of single cream in addition to the butter. This can be done by gradually adding around 10cl of cream to the caramel once it is made.
Chasseur products used in this recipe