Recipe - Dessert
Baked apples with honey and nuts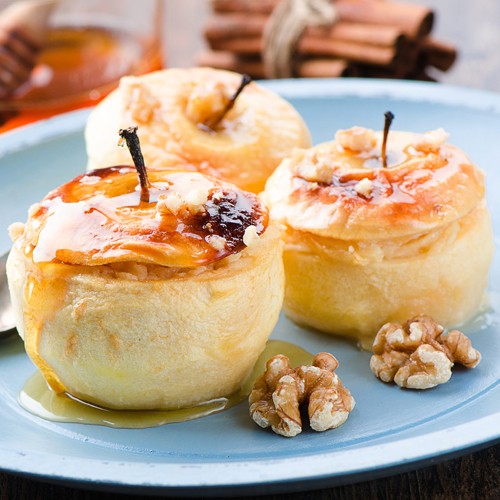 These baked apples enriched with honey, spices and nuts are a delicious and comforting treat!
Ingredients
Serves 4

For the apples:
4 apples
4 teaspoons honey
4 knobs of butter

For the filling:
50g walnuts
40g honey
1 knob of soft butter
zest of half a lemon
½ teaspoon ground cinnamon
40g sultanas


Instructions
Preheat the oven to 180°.

Wash and peel the apples.

Make a thin lid by cutting the top of each apple. Then carefully hollow out the centre of each apple to remove the core but also the flesh, using a peeler or a knife. Cut the removed apple flesh into small pieces.

Roughly crush the walnuts. In a bowl, mix with the honey. Add the soft butter, lemon zest, cinnamon and finally the sultanas.

Pour some water into each mini casserole and place the apples inside. Then fill the apples with the mixture you have just made. Place the lids on each of the stuffed apples, adding a teaspoon of honey and a knob of butter to each one.

Bake for 30 minutes. And they're ready!

Chef's tip: choose apples that are well suited to cooking: King of the Pippins, Granny Smith, Golden Delicious or Pink Lady are perfect for this recipe.
Chasseur products used in this recipe