Recipe - Dessert
Creamy rice pudding with cinnamon and mascarpone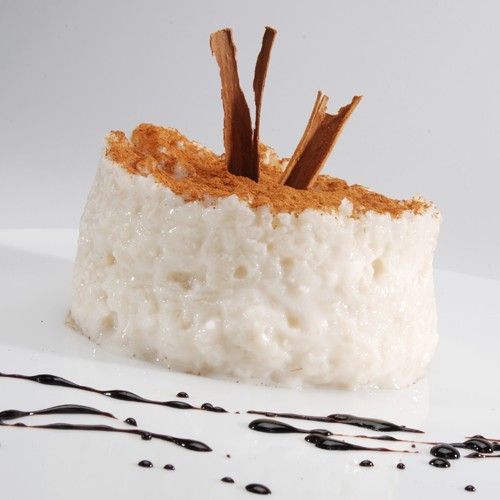 The addition of mascarpone is the secret to getting an incredibly smooth and creamy rice pudding.
Ingredients
Serves 4 to 6, depending on appetite

For the rice pudding:
100g mascarpone
1 litre whole milk
120g short-grain rice
100g cane sugar
1 teaspoon ground cinnamon
1 vanilla pod
1 pinch sea salt

For the chocolate sauce:
2 tablespoons unsweetened cocoa powder
6 tablespoons maple syrup
6 tablespoons grapeseed oil (sunflower oil can be used as an alternative)
Instructions
Soften the mascarpone by adding a small amount of milk. Mix well. Add the mixture to the casserole. Add the rest of the milk and the rice, which should have already been rinsed until the water runs clear. Mix.

Then mix in the cane sugar, cinnamon, vanilla bean (split and scraped) and the sea salt. Place the casserole over a medium heat. When the mixture begins to boil, reduce to the lowest heat and leave to simmer for about 1 hour, covered.

Meanwhile, prepare the dark chocolate sauce: in a bowl, mix together the cocoa powder, maple syrup and grapeseed oil using a whisk. Keep chilled. Once the rice pudding is cooked, remove the vanilla pod and divide into 4 ramekins.

Une fois le riz au lait cuit, ôter la gousse de vanille et répartir dans 4 ramequins.

Leave it to cool, then chill or enjoy it warm sprinkled with cinnamon and accompanied by the dark chocolate sauce.

Chef's tip: it is important that you choose a rice for this recipe which will cook slowly and therefore absorb the milk very gradually. Choose a short-grain rice such as Arborio, which is also used for risotto.
Chasseur products used in this recipe