Recipe - Dessert
Tarte Tatin, maple syrup and cardamom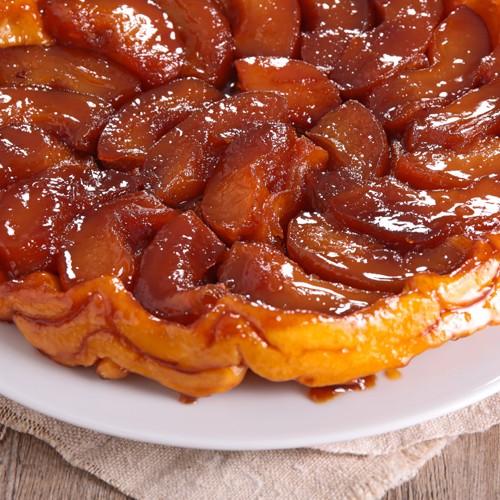 Deliciousness is guaranteed with this wonderful caramelised Tarte Tatin with maple syrup, flavoured with cardamom.
Ingredients
Serves 6 to 8 people

1 cuil à soupe rase de fécule de maïs
2 cuil à soupe d'eau
20 cl de sirop d'érable
1 level tablespoon cornflour
2 tablespoons water
20cl maple syrup
100g butter
3 green cardamom pods
6 Golden Delicious apples
1 roll of puff pastry


Instructions
Preheat the oven to 200°.
In a bowl, dilute the cornflour in the water.

Remove the seeds from the cardamom pods and crush them using a mortar and pestle to make a powder. Add it to the serving casserole.

Bring to the boil and simmer until the mixture thickens (6-8 minutes).

Remove from the heat and allow to cool.

Peel the apples. Cut them in half and remove the core. Cut each half in half in half again. Once the syrup has cooled, add the apple quarters to the casserole and stir with a wooden spoon to coat them in the syrup.

Arrange the apple pieces very snugly in the bottom of the serving casserole.

Unroll the puff pastry. Cut around the rim to make a circle that is slightly larger than the serving casserole. Cover the apples with the pastry, pushing the excess pastry towards the inside using a spatula.

Make holes in the dough in several places to allow the steam to escape. Bake for 25 to 30 minutes.

Leave to cool for ten minutes before inverting the tart onto a dish. Serve.

Chef's tip: this tart can be enjoyed warm or cold. If you prefer, you can also make this recipe using shortcrust pastry.
Chasseur products used in this recipe