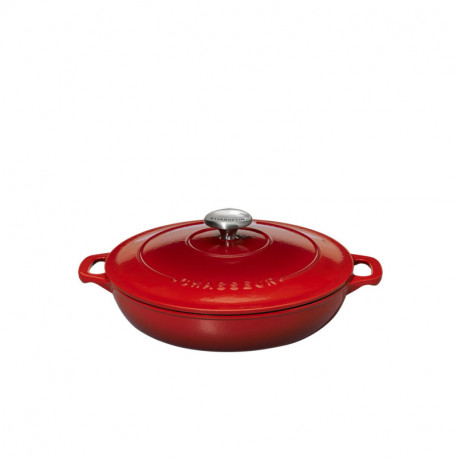 
Find our recipe ideas with "Round serving casseroles"
Descriptive
| | |
| --- | --- |
| Diameter | 20 cm |
| Capacity | 1.30 L |
| Height | 27 cm |
| Width | 21 cm |
| Depth | 11 cm |
| Weight | 3.00 Kg |
Enamelled cast iron casserole, perfect for making succulent meat stews, sautéeing vegetables and also for making decadent desserts.
Advantages
- Cast iron retains heat efficiently meaning the gentlest cooking methods can be used, and helps to keep food warm for long periods.
- Continuous moisture distribution during cooking: the ridges on the interior of the lid condense and then evenly redistribute moisture which is full of the aromas of the dish being cooked.
- Suitable for all cooking methods, including induction hobs and ovens.
- Unique, handmade product: French craftsmanship. A lifetime guarantee is offered according to the instructions for use and maintenance in the instructions.
Advices
- Cooking: the cast iron must be heated gradually. To avoid creating thermal shock, do not use the booster function on induction hobs.
- Care: do not use very abrasive cleaners or sponges so as to avoid damaging the enamel.